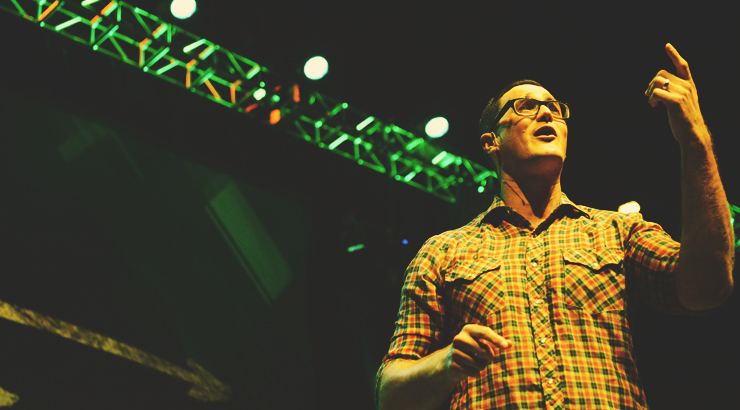 C.S. Lewis, in The Screwtape Letters, said that mortals think devils work by putting things into our minds, when they actually work by keeping things out. Our perception of reality can be a tricky thing. Are we accurately grasping what reality is?
David Calavitta is not endorsing the movie Fight Club, but the first rule of Fight Club? Makes a lot of sense for those of us in Catholic Fight Club. Because the reality is that we're already in a fight, a fight we were born into, and we never, ever talk about it.
In the Book of Revelation, John is given a vision of reality. John sees a woman, about to give birth to her male child. There's also a dragon waiting to devour the child – but once the child is born, the dragon can't reach him.
This giant dragon that John sees is not just a symbol, but a being – Satan, waiting to devour our Savior. And since he couldn't defeat Christ, he turned to the woman's offspring. Our God is undefeatable, so Satan turns his eyes to us. He hates that we bear the resemblance of our Creator.
We were born into this war and we are the battlefield. The devil doesn't want us to stop and think about it, because if we don't think about it then we have nothing to be concerned with. Seeing the devil as a comical figure or entertainment? If you think the devil is harmless, he has you right where he wants you.
While "a thief comes to steal, slaughter, and destroy" (John 10:10), our God comes to bring life, and bring it abundantly. The Good Shepherd will go after His sheep, and even if the evil one is after us, our God won't leave us alone.
And if – really, when – we need to come home, the Sacrament of Reconciliation is always available to us. Run to that mercy, whenever you need to. It's always waiting for you.
Quotables
"Those who keep God's commitments bear witness to Jesus. That's us."

"Our God has no limits. He will not stop. He will dig through the depths of hell to save us."

"Tonight, God is reaching down. Will we be there to reach back up?"

"There is nothing that would upset hell more than you and I going to the Sacrament of Reconciliation to be remade."